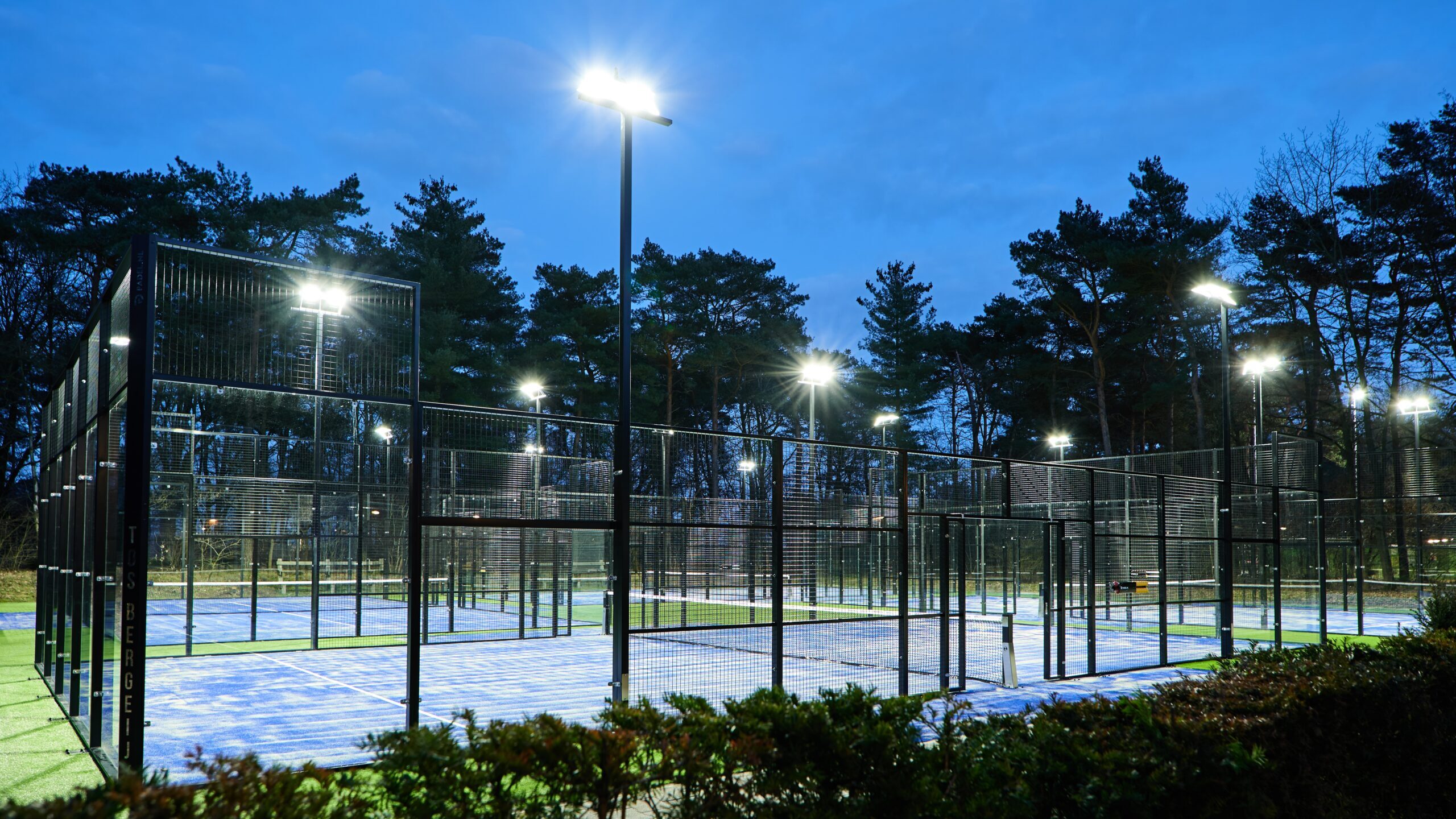 Padel lighting, but better.
Perfectly uniform lighting. Reliable European quality.
And energy savings up to €1000 per court per year compared to other led fixtures.
Padelverlichting.nl illuminates your padel court like never before.
You don't just want a padel court. You want a good padel court. A durable and high quality court that guarantees optimal playing pleasure. To achieve that goal, good padel lighting is crucial. Uniform light on the entire track, never blinding for the players, with the right light color and without nuisance for the environment. Preferably stainless and with a long lifespan – while also being affordable. Does that sound like the padel lighting you're looking for? We have it for you.
Padelverlichting.nl specializes in one product: padel lighting of the highest quality. Together with experts in light calculations, padel and domotica, our specialists developed unique LED fixtures. Made in Europe and with unique features that make every padel rally a joy to play and watch. Not only is our padel lighting good, so is our service. We will always speak to you personally and only leave when you are 100% satisfied.
Padel courts with our lighting
This is how our padel lighting makes the difference
Perfect light in every situation
Our horizontally placed fixtures allow for uniform lighting without being blinding to the players or the environment.
Repairs within 1 hour on location
We have all parts in stock and can repair almost any defect quickly and on site.
A custom lighting plan
We calculate the optimal lighting for your padel courts and give you precision control with manual or digital controls.
Very long
lifespan
Our aluminum LED fixtures last an average of 100,000 burning hours and are waterproof, UV-resistant and rust-free.
Sustainable top quality
Our European production saves CO2 emissions and guarantees consistent top quality of all components.
Available in all of Europe
Our fixtures are available in all of Europe. You can also use our 24/7 help desk.
Our products and services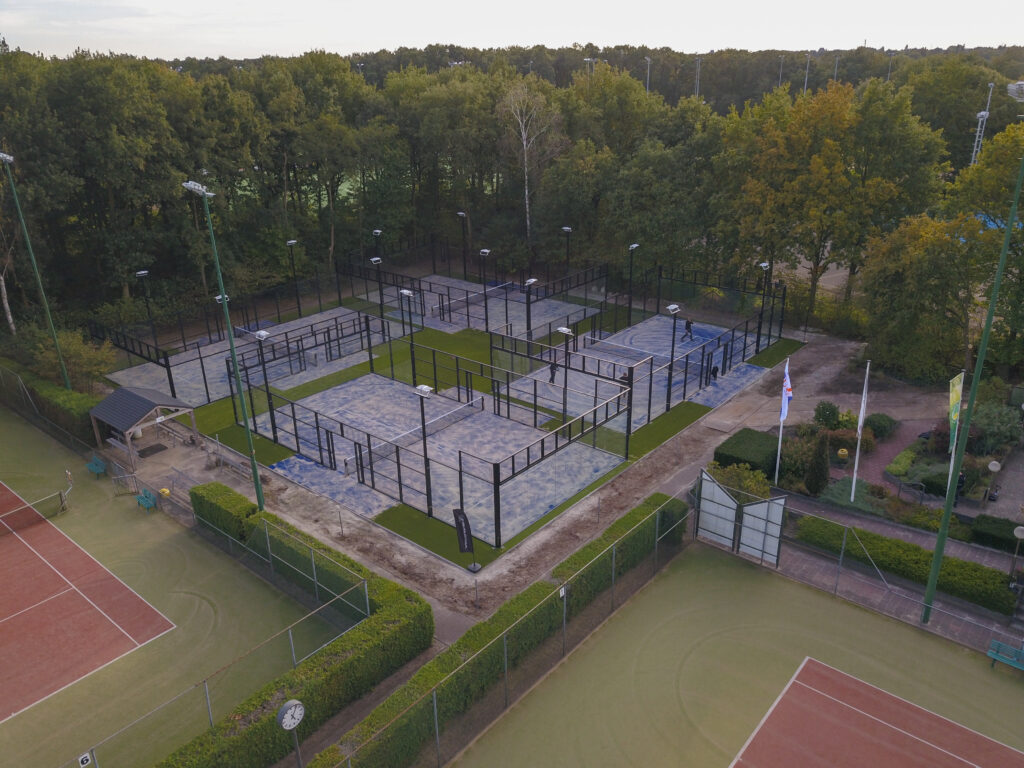 Our padel lighting is exclusively designed for padel courts. Thanks to a smart customized lighting plan, only one fixture is needed per lamppost, which saves energy and halves the risk of malfunctions. And did you know that our fixtures qualify for a 30% BOSA subsidy?
Would you like to know more about our unique fixtures? Watch our product video: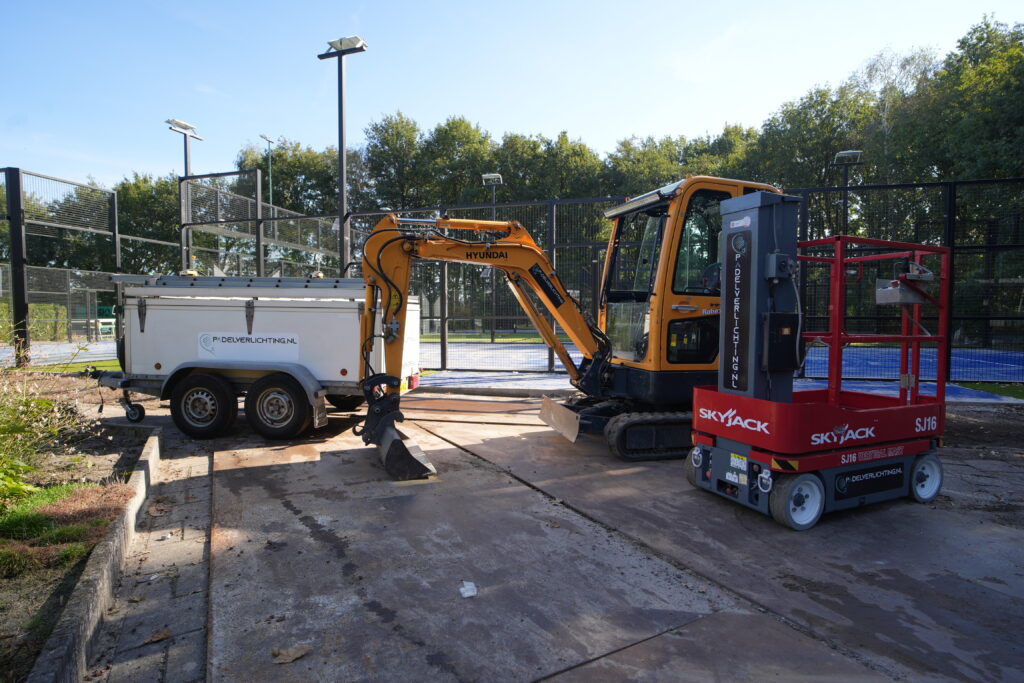 Need additional services? You can contact us for the installation of electrical installations and domotica. We offer a service for glass cleaning and fixture cleaning, and it is possible to rent our aerial work platforms for your maintenance, including a delivery and collection service.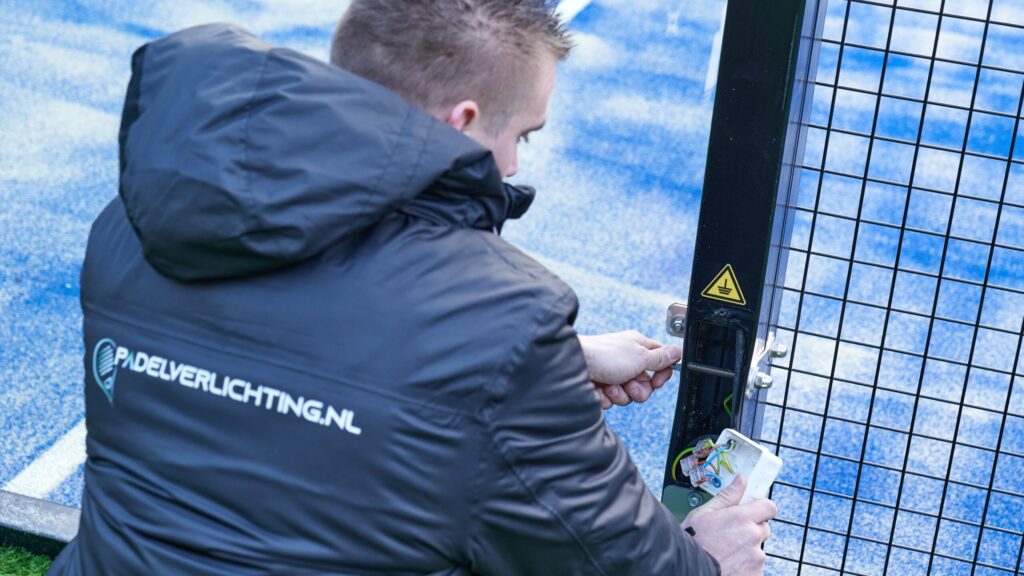 We can repair a defect in our own fixtures on site, often within 1 hour of repair time. If you have other fixtures, repair can be difficult. In that case, we will look for the best solution together to make your padel court light up again. We do all this with our special aerial platforms, safe for subfloors and suitable for narrow doorways.
No light nuisance for the environment
The LED fixtures of Padelverlichting are designed in such a way that they do not cause any light nuisance to the environment. An undesirable side effect of the growing popularity of padel is that the courts are often placed in residential areas with little regulation. More and more padel locations are faced with complaints due to noise and light nuisance. By using our LED fixtures, you will not cause any nuisance to the environment in terms of lighting, both flora and fauna. This way you are better protected in advance against possible adjustments to the standards by the Dutch Padel Association, the KNLTB, or new legislation.
Sign up for our newsletter
Do you want to stay informed of the latest news about padel lighting? Then sign up for our newsletter!
Our partners